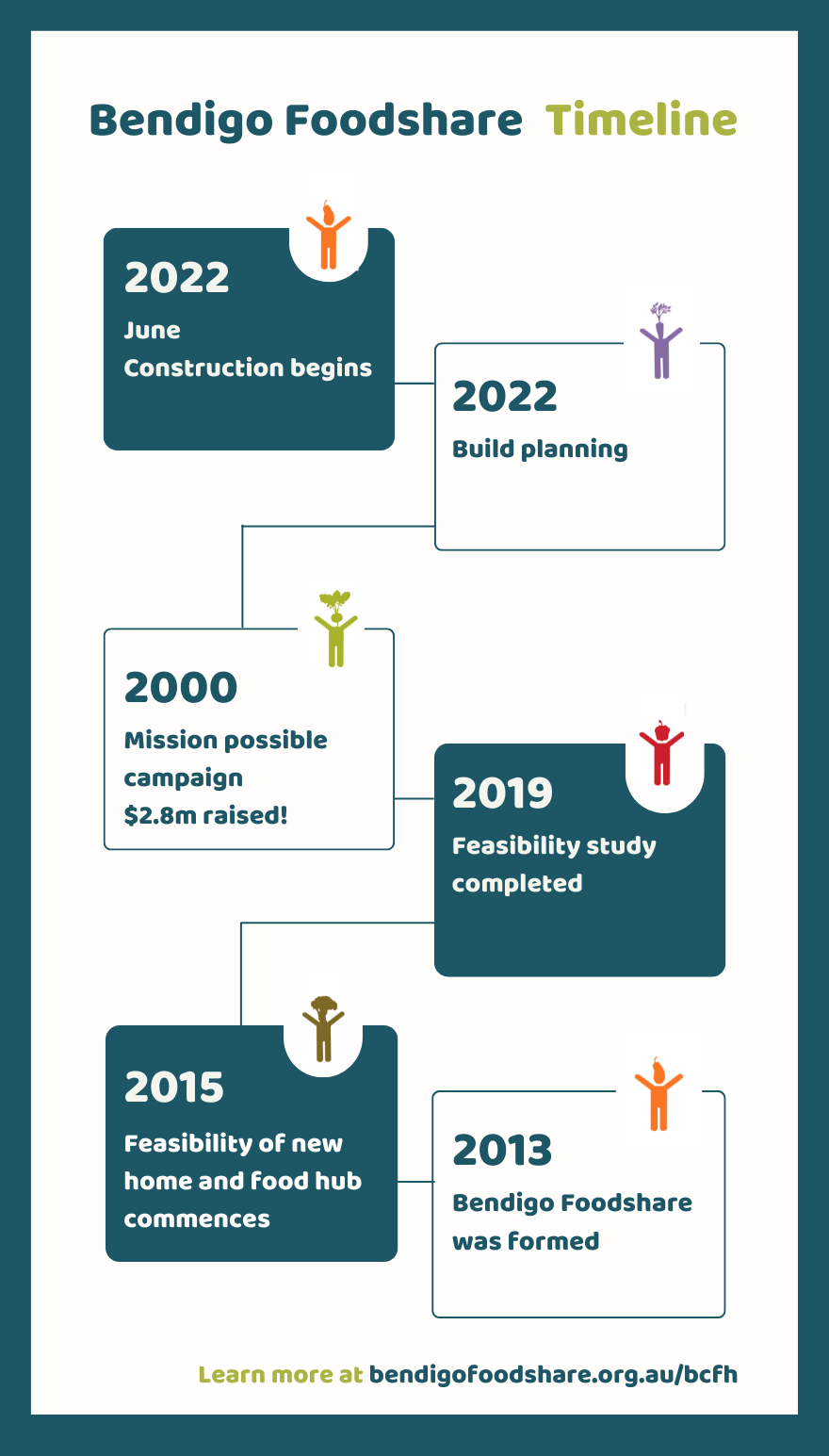 FAQs
Why was the Golden Square site selected?
Bendigo Foodshare
2022-06-23T16:10:59+10:00
The Golden Square site was identified as a suitable site for the Food Hub by the City of Greater Bendigo back in 2019, and a master plan of the site was developed for the project by Y2 Architecture in collaboration with key stakeholders.
The site was chosen as it is only 2km from the Bendigo CBD, which ensures the Food Hub is inclusive and accessible by car or public transport to the many volunteers, community members and organisations who will use it on a daily basis.
The food hub site is crown land, owned by the Victorian Government and is managed by The Department of Environment, Land, Water and Planning, and the local Traditional Owners, Dja Dja Wurrung.
Bendigo Community Food Hub
Our vision of a food hub is a centralised location where the community can come together to address food insecurity, share ideas, access locally grown produce and learn to cook, grow and share food.
It will be an inclusive and inspiring place where people can access fresh, healthy food cheaply and in a dignified way. In partnership with the community, we would like to further develop the Food Hub to include a pop up cafe, cooking skills training area and a food garden. These areas will provide valuable connections to food and community – working with our partners to grow, cook and share food and skills.
We will look to develop social enterprises that benefit community (e.g. encourage pathways to employment opportunities) and make our community programs sustainable.
Construction of the Food Hub is due to start shortly and has been made possible through the Victorian State Government's investment of $1 million through the Community Support Learn more >
This study describes a number of sequenced Food Hub models that in our assessment match Bendigo's current and anticipated food security needs. It provides national and international examples of Learn more >
How can I obtain further information?
This dedicated web page has been developed to keep the wider community informed about the project and will be updated regularly with all of the latest information about the Food Hub. We encourage you to follow the Bendigo Foodshare Facebook page where we will also provide updates as construction progresses.
If you have questions that are still unanswered, we encourage you to email us at info@bendigofoodshare.org.au.
You are also welcome to call us on 5444 3409, however, as we are a volunteer-based organisation, we do not expect volunteers answering the phone to be able to answer all queries. If you leave a message and your contact details, our staff will call you back in due course.
How can I obtain information in other formats or languages?
If you require information in another language, large format or in an audio file, please email  info@bendigofoodshare.org.au
Bendigo Community Food Hub Supporters